Zhar'doom, Greatstaff of the Devourer

Item Level

151

Speed 3.20
145 - 323 Damage
(73.2 damage per second)
+47 Intellect
+70 Stamina
Durability 120 / 120
Requires level 70
Equip: Improves haste rating by 55.
Equip: Improves critical strike rating by 36.
Equip: Increases spell power by 259.
Zhar'doom, Greatstaff of the Devourer is an epic staff for DPS casters.
Source
This item drops from Illidan Stormrage in the Black Temple.
Trivia
The staff looks like a zergling/felbeast, this is probably an in-game joke/reference to StarCraft. In some levels and the Map Editor you were able to add a zergling hero called "Devouring One", it may also be a reference to this.
The name "Zhar'doom" also appears to be a reference to Zha'dum, the homeworld of the Shadows in Babylon 5.
Patches and hotfixes

Patch 2.1.0 (22-May-2007): Added

External links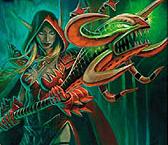 Community content is available under
CC-BY-SA
unless otherwise noted.