Wowhead is a World of Warcraft information database featuring a JavaScript interface. The site catalogs items, quests, talents, and much more — all able to be searched, sorted, and arranged to find the information needed. Wowhead is currently the only major database website that has been mentioned by Blizzard in their Community Spotlight.
The website started out as a talent calculator in December 2005. The talent calculator offers the ability to import builds from Blizzard talent calculators. It was in beta from April 4th to June 25th, 2006[2], and the database was released on June 26th, 2006[3].
Wowhead makes extensive use of AJAX for its interface function and requires JavaScript to be enabled in order to function.
The team
Edit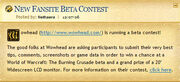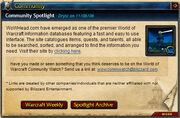 Wowhead
Former
Ownership
Edit
Wowhead was originally a privately owned site, owned by its founders, Joshua and Guillaume. During June 2007, Wowhead was sold to ZAM Network, a wholly owned subsidiary of Affinity Media, after several management and hosting changes.
Downloads
Edit
Wowhead Client
Edit
An application (Windows and Mac OS X) that checks for data to upload, uploads data, installs the client AddOn, and checks for updates.[7] Requires a Wowhead account to upload data.
MMOUI Minion
Edit
An upcoming AddOn manager that will work in cooperation with WoWInterface.[8]
A separate domain of http://www.wowheadnews.com was introduced for an official news blog on April 26th, 2011 by Site Director, Ashelia.[9] On June 7th, 2012, the news portion of the site is now also accessible from http://www.wowhead.com/news and the redirect http://news.wowhead.com.
See also
Edit
Web API - Blizzard web based API information and documentation
References
Edit
External links
Edit
News
Related
Reviews
API
http://api.wowguild.co/api/doc/ - Rich Spell API, a public WoWHead backed item API used by wowguild.co.
Community content is available under
CC-BY-SA
unless otherwise noted.