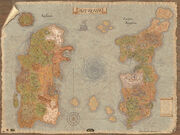 World of Warcraft World Map
By Bart G. Farkas. Published by BradyGames.
The World of Warcraft World Map is not just a tool to help you find your way around Azeroth — it's also a work of art worthy of display. This large poster will look great on the wall of your game room or your living room!
2-sided, full-color poster ready for framing.
Side 1: the Azeroth map with all flight paths — highlights the Horde, Alliance, Neutral, and Druid-only travel points.
Side 2: the Azeroth map, unfettered — shows a clear view of the topography of the islands.
This publication currently is not for sale.
References
Edit
External links
Edit

BradyGames Bookstore
World of Warcraft World Map
BradyGames Promotions 

World of Warcraft: Exclusive World Map (promotion)