This is a fan-made April Fools article

This article is a fan-made April Fools joke. Its content is not part of official Warcraft lore, but represents one of a fan's jokes.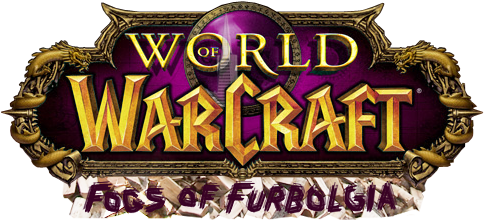 In a surprise announcement so soon after the availability of the

World of Warcraft: Mists of Pandaria Beta, Blizzard announced the following expansion, World of Warcraft: Fogs of Furbolgia![1]
Overview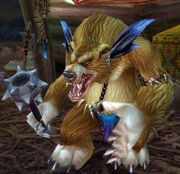 Often unfavorably compared to murlocs, the furbolg known to most adventurers are primitive bear-like creatures with limited intelligence. However, lying shrouded in fuchsia fogs to the east of the Eastern Kingdoms and to the west of Kalimdor lies the formerly unknown continent of Furbolgia! Furbolgia has its own thriving civilization of sophisticated furbolgs who have their own unique architecture and impressive innovations.[2]
New playable race: Furbolg
Unlike the annoyingly cute and cuddly pandaren, the furbolgs are a rough and ready race of aggressive bashers and scrappers. Playable furbolgs start as neutral and stay that way! None of the foolish allegiance to foreigner orcs or body-bald humans... yuck! Furbolgs will befriend anyone and fight anyone.[3]
Racial traits
Body odor - any creature within 15 yds will get a debuff that lowers their hit rating and causes them to flee for 3 secs if they aren't wearing a helm.
Wood affinity - bonus hit rating and damage when wielding any wood based weapon like a bow or staff.
Hairy armor - automatically gets an armor bonus (scales with level) for any armor slot with no armor equipped.
New class: Accountant
Among the advanced culture of the the furbolgs there is a highly developed financial infrastructure that they actively proselytize to other races.[4]
Example abilities
Debilitating audit - Basic attack that builds the liabilities resource system.
Collateralized obligation - Bleed attack that does damage over time.
Crushing debt - Finishing move.
New profession: Cosmology
While archaeology feebly digs into Azeroth and Outland's recent history, the cosmologist engages in searching the past even well before the pre-history between both worlds. While it may take many portals to find the background radiation that reveals the origins of the Warcraft universe, the rewards will be atronomical! More details to come.[5]
Sub-skill
Particle acceleration - smash very small items together and examine the microscopic rubble for evidence of creation more significant than mere knowledge of the Twisting Nether.
Target dummy battle system
They're done taking damage! Now it's their turn to fight back! Not many details so far, but randomly encountered, roving target dummies will be recruitable for epic battles.[6]
See also
References
Community content is available under
CC-BY-SA
unless otherwise noted.