Worg Disguise

Use: Transforms you into the likeness of a worg. Creatures other than the Fanggore worg pack can see through the disguise. Many actions, including combat and casting beneficial spells, will drop the disguise. (5 Sec Cooldown)
This item is provided for the following quests:
Objective of
Edit
This item is an objective of the following quests: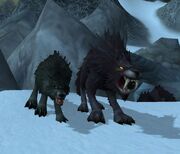 This item only works in Howling Fjord.
Although a worg disguise, you'll take the appearance of a black wolf over the actual worgs found in the area.
External links
Edit