Wooly White Rhino

Mount

"Mount" is not in the list of possible values (Back, Chest, Feet, Finger, Hands, Head, Held in off-hand, Legs, Main Hand, Neck, Off Hand, One-Hand, Projectile, Ranged, Relic, Shirt, Shoulder, Tabard, Thrown, Trinket, Two-Hand, Waist, Wrist, Two-Handed) for this property.

Requires level 40
Requires Riding (150)
Use: Teaches you how to summon this mount. This is a very fast mount.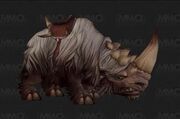 Wooly White Rhino comes from the World of Warcraft TCG
TCG Expansion: Icecrown
Card: Wooly White Rhino
Rarity: 1/363 booster packs
Notes
The level 40 mount (epic) can be traded in-game.
When learned, counts toward the Mountain 'o Mounts achievement (Horde or Alliance).
External links

WarcraftLootCards
Wooly White Rhino Mount - Video, Price Guide
Community content is available under
CC-BY-SA
unless otherwise noted.