Witch's Sanctum is an area inside Sunwell Plateau. The Eredar Twins are found here. The zone is a circular room that begins with a 2-way ramp taking up half the room, just below the ramp is where the twins Alythess & Sacrolash stand, in a glowing runic circle on the ground. The sanctum is lit by golden crystals and a large blue light chandelier.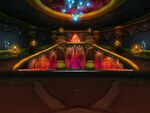 Before 2.4.2 there were bluelight candles on the ramp. The ramp itself was often called the "Ledge Boss" due to a trivial difficulty of caster classes standing on the edge during the fight with the twins.
Races
Trash mobs
Community content is available under
CC-BY-SA
unless otherwise noted.