Wing Commander Mulverick is a level 60-85 elite orc serving as lead wing commander of the Frostwolf Clan in Alterac Valley. At the beginning of each match, he is held prisoner in the Dun Baldar North Bunker.
"Mulv" and his Alliance counterpart, Wing Commander Ichman, have since (canonically) quit their respective jobs in Alterac Valley and made their way to Outland, where they now serve the Dragonmaw Clan at the Dragonmaw Base Camp in Shadowmoon Valley. Mulverick, in particular, was disgusted at the Frostwolves for the sheer amount of pathetic whining during battle, and wished to finally be rid of the infernal complaining. While in Outland, Mulverick is friendly to both Alliance and Horde players who have completed the quest

 [70] Blood Oath of the Netherwing.
Quests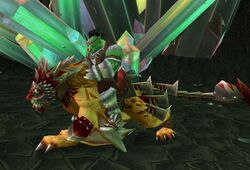 When freed, he accepts turn-ins of Stormpike Commander's Flesh. When ordered to strike, he will attack the Stormpike Aid Station.
See also: Mulverick's War Rider
In Outland, he starts the following quest:
See also: List of Shadowmoon Valley NPCs
Trivia
Like all the wing commanders in Alterac Valley, Mulverick's name is a reference to a character in the movie Top Gun, in this case the character "Maverick" played by Tom Cruise.
Maverick is also the character played by Mark Hamill in the Wing Commander games.
Quotes
Yeee hawww! Mulverick's fleet is ready to rock. All able bodied Horde soldiers need request a beacon and try their damndest to plant it so that my War Riders can home in for the aerial assault.
I come for you, puny Alliance!
Incoming air support to Dun Baldar! Stormpike bow down!
Three years of blood, sweat and tears. Mostly tears... The amount of crying that a hardened soldier does when it comes down to all-out war is amazing! "They're jumping into our tower with their horses!" "Why is their base so well defended?" "They're taking our relief hut, I'm going A.W.O.L.!" Wimps... I took the first train out of "cry-town" the minute the Dark Portal opened. Now I'm a top gun for the Dragonmaw. If you want to be top orc, you'll have to defeat me.
Patch changes
External links
Community content is available under
CC-BY-SA
unless otherwise noted.