The subject of this article was removed from World of Warcraft in patch 2.0.1.

This includes items and quests that can no longer be obtained.
The in-game information in this article is kept purely for historical purposes and should probably not be under any other categories.

Whistle of the Black War Raptor

Item Level

55

Mount

"Mount" is not in the list of possible values (Cloth armor, Leather armor, Mail armor, Plate armor, Axe, Dagger, Fishing pole, Fist weapon, Mace, Miscellaneous, Polearm, Staff, Sword, Bag, Enchanting bag, Engineering bag, Gem bag, Herb bag, Leatherworking bag, Mining bag, Soul bag, Arrow, Bow, Bullet, Crossbow, Gun, Idol, Libram (relic), Shield, Sigil, Thrown, Totem (relic), Wand) for this property.

Races: Orc, Undead, Tauren, Troll, Blood Elf
Requires level 55
Requires Riding (75)
Use: Teaches you how to summon this mount. This is a very fast mount.
Vendor 100
The Whistle of the Black War Raptor summons an epic mount trained by trolls. This version was available only before Patch 2.0 and

to those who had reached a minimum PVP rank of Lieutenant General (rank 11). At the time, this mount only required Riding Skill 75 and level 55.
Was a PvP reward purchasable from  

Raider Bork

 <Mount Quartermaster> for 100 with appropriate rank.
See also
Edit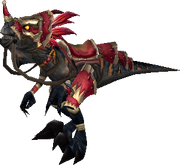 Patch changes
Edit
/

Patch 2.0.1

(05-Dec-2006): Replaced with an updated version for the new Honor System.


Patch 1.4.0

(2005-05-05): Added.

External links
Edit