Whistle of the Black War Raptor

Item Level

40

Mount

"Mount" is not in the list of possible values (Cloth armor, Leather armor, Mail armor, Plate armor, Axe, Dagger, Fishing pole, Fist weapon, Mace, Miscellaneous, Polearm, Staff, Sword, Bag, Enchanting bag, Engineering bag, Gem bag, Herb bag, Leatherworking bag, Mining bag, Soul bag, Arrow, Bow, Bullet, Crossbow, Gun, Idol, Libram (relic), Shield, Sigil, Thrown, Totem (relic), Wand) for this property.

Races: Orc, Undead, Tauren, Troll, Blood Elf
Requires level 40
Requires Riding (150)
Use: Teaches you how to summon this mount. This is a very fast mount.
Vendor 2000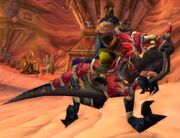 The Black War Raptor is an epic mount, and part of the PvP honor system rewards.
The mount is sold by

 Raider Bork <Mount Quartermaster>, for 2000

 .
Patch changes
Edit
/

Patch 4.0.1

(12-Oct-2010): Cost changed from 50,000 to 2000  .


Patch 3.3.3

(2010-03-23): Cost changed from 30 30 30 to 50,000

External links
Edit
Community content is available under
CC-BY-SA
unless otherwise noted.