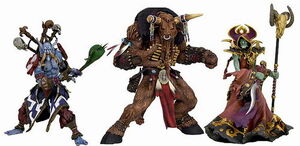 Since Warcraft II, there have been a number of Warcraft action figures produced by various parties.
Blizzard Entertainment Edit
Blizzard produced a series of figures in-house.
Warcraft Series 1:
Warcraft III Series 1:
Warcraft III Series 1:
Warcraft III Series 2:
State of the Art (SOTA) Edit
World of Warcraft Series 1:
DC Unlimited: World of Warcraft Edit
Series 1 Edit
Series 2 Edit
Series 3 Edit
Premium Series 1Edit
Blizzard Store Exclusive Deluxe Figure Edit
Series 6 Edit
Premium Series 2 Edit
Series 7 Edit
Premium Series 3 Edit
2010 Deluxe Collector Figure Edit
Series 8 Edit
Premium Series 4 Edit
External links Edit
Store
Recent in Blizzard Stores
Figure
Store links
Series
Chen Stormstout, Pandaren Brewmaster
Store Exclusive
The Headless Horseman, Hallow's End Nemesis
Premium 4
Wildmoon, Moonkin
Premium 4
Confessor Dhalia, Forsaken Priestess
8
The Black Knight, Argent Nemesis
8
Brink Spannercrank & Snaggle, Gnome Rogue vs. Kobold Miner
8
News

WoW Insider
Check out the DC Series 8 and Premium Series 4 action figures
by Mathew McCurley Mar 12th 2012 at 12:00PM

WoW Official Game Site (EU)
Moonkin Madness: Premium Series 4 Collectibles and Coin Sets Have Arrived!
by Blizzard Entertainment, 10 Feb 2012 15:09 UTC

BlizzPlanet
World of Warcraft Series 7 Action Figures On Sale
by Medievaldragon – March 1, 2011