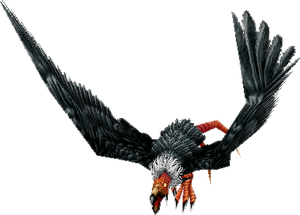 Main article: Carrion bird
Vultures are carrion birds that can be found throughout the Barrens — seeking carnage upon which to feed. The mottled scavengers have been known to aid the vile harpies from time to time — drawn by the promise of freshly slain flesh and blood.[1] They can be found roaming the lands of Kalimdor. They work simply for self-preservation.[2]
A particular characteristic of many vultures is a bald head.
Vultures can also be found roaming the Eastern Kingdoms like in Western Plaguelands. They have also been seen in Outland, but with two heads.
Subspecies
The subspecies below can be tamed by hunters.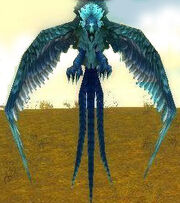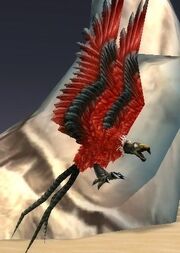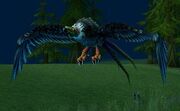 Blue
Brown
Red
Black
White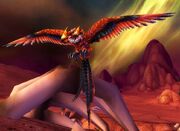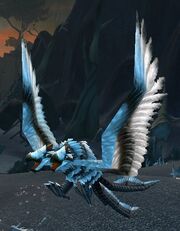 Blue
   [66]  

Angered Arakkoa Protector

(spawned, ghostly)
Green
   [55]  

Bonepicker Felfeeder
Red
   [45 Rare]  

Emberwing

   [47-49]  

Searing Roc

   [51 Rare]  

Catal

   [58-59]  

Bonestripper Buzzard

   [61-62]  

Bonestripper Vulture
White
   [41 Rare]  

Fene-mal

(ghostly)
   [51 Rare]  

Favored of Isiset

   [65]  

Trachela
Yellow
   [39 Rare]  

Heress

(ghostly)
   [55 Rare]  

Spiteflayer
Named
Vanity/Battle pet
Notes
Vultures rarely attack healthy animals, but may kill the wounded or sick. When a carcass has too thick a hide for its beak to open, it waits for a larger scavenger to eat first. Vast numbers have been seen upon battlefields. They gorge themselves when prey is abundant, until their crop bulges, and sit, sleepy or half torpid, to digest their food. These birds do not carry food to their young in their claws, but disgorge it from the crop.
References
External links

Warcraft Pets
Community content is available under
CC-BY-SA
unless otherwise noted.