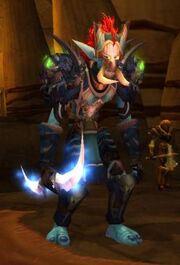 Throughout his young life, Vol'jin was the apprentice to the Troll witchdoctor Sen'jin, while the exiled Darkspear Tribe lived on the Broken Isles. During this time period, the Darkspear Trolls was almost wiped out by a group of murlocs. Only through the timely intervention of Thrall and the Orcs did any Trolls survive. Sen'jin died bravely on the Islands trying to save his people. With Sen'jin's death, Vol'jin became chief witchdoctor and shadow hunter for the tribe. In order to repay Thrall for saving his people, Vol'jin pledged his loyalty and service to Horde.
During the Third War, Vol'jin and the Darkspear Tribe fought along side the Orcs against the Burning Legion. After the war, Vol'jin settled the tribe upon the Echo Islands, just off the shores of Durotar. It wasn't long before a new threat appeared however, lord admiral Daelin Proudmoore's expeditionary fleet began attacking the islands. Vol'jin aided Rexxar and Rokhan in evacuating the Darkspear tribe, turning the two into Wyverns allowing them to attack the Alliance fleet from above, and supplying them with a squadron of Troll Batriders. After helping the Horde beat back the human invasion, Vol'jin reestablished the Darkspear Tribe in Sen'jin Village along the southern coast of Durotar. Vol'jin currently resides in Orgrimmar, helping to assist the Warchief, and guiding his people toward a brighter future.
Class: Witch Doctor
Level: 60
Leader of the Darkspear Troll tribe.