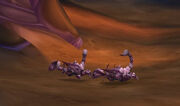 These are scorpions located in Temple of Ahn'Qiraj after Fankriss the Unyielding. They use extremely high damage instant poison, mind numbing poison, and crippling poisons. The poisons must be cleansed immediately.
Notable Drop: Shard of the Fallen Star (http://www.thottbot.com/?i=53098), a nifty trinket that drops meteors on your enemies. Example of its use can be found in video form here - http://www.warcraftmovies.com/movieview.php?id=21156
Patches and hotfixes

Patch 1.9.0 (03-Jan-2006): Added

External links
Community content is available under
CC-BY-SA
unless otherwise noted.