"The Scourge invaded Quel'Thalas and slaughtered many of our people. We will have vengeance. Join us, or get out of our way."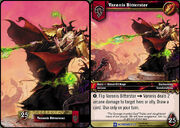 Varanis Bitterstar is a blood elf mage and master of the arcane. He is depicted with three Verdant Spheres orbiting his head, the same as Kael'thas Sunstrider.
Community content is available under
CC-BY-SA
unless otherwise noted.