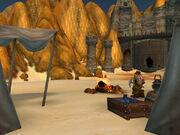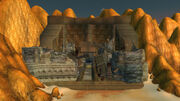 The Valley of the Watchers is a valley located near to Uldum. In front of it are mighty, elite Dune Smasher mountain giants.
Also in this valley a small dwarven camp has been set up by the Explorers' League. Prospector Gunstan can be found here.
Cataclysm

This section concerns content exclusive to Cataclysm.
In Patch 4.0.1, the Uldum gate has significantly changed its appearance. Instead of the new (currently inaccessible) Uldum zone, however, it leads to a small dungeon area.
Community content is available under
CC-BY-SA
unless otherwise noted.