Welcome to WoWWiki!
Hello, WoWWiki-Suzaku, and welcome to WoWWiki, the Warcraft wiki! Thank you for your contributions, and we heartily encourage you to continue contributing!
Some links you may find useful:
We hope you enjoy editing here and being a WoWWikian!
Please sign your name on talk pages using four tildes (~~~~) as this will automatically produce your name and the date. If you have any questions, just ask on the relevant talk page, or visit the WoWWiki Forums.
Thank you for the lore contributions. --

 Fandyllic (talk · contr) 16:47, 5 December 2007 (UTC)

Last Cleanup: June 29, 2008
CODE GEASS FTW!
What? No. I didn't even realize there was a Suzaku in that. Suzaku is a phoenix in Eastern mythology. I named myself after it based on a character from Tenchu 2: Birth of the Stealth Assassins. WoWWiki-Suzaku (talk) 00:52, 27 April 2009 (UTC)
Image problem
Edit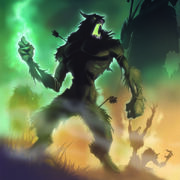 Just FYI something is goofy with your image.

 Howbizr(t·c) 4:48 PM, 30 Jul 2009 (EDT)
I know, I tried reuploading it, saving it in other formats, etc., but for some reason, uploading the file just wouldn't work, so I gave up. I figured there was maybe a problem with Wikia and that I'd try again some other time. WoWWiki-Suzaku (talk) 06:41, 31 July 2009 (UTC)
PathS of the Titans
Edit
Hey man, I added a comment to the Path of the Titans page you may wish to check out. I won't change it back until you have had a chance to look in to it as well. Larsiam (talk) 17:02, 23 August 2009 (UTC)
please help?
Edit
Hello im Dante135,
I have been searching and searching and i was wondering if you could tell me what the best equipment is for the hunter night elf.
Please if you know can you tell me i would be very thankful.
Your opinion is desired
Edit
Hey, just wanted to solicit your opinion on whether WoWWiki should leave Wikia. Thanks! --PcjWoWWiki admin (TDrop me a line!•C58,964 contributions and counting) 12:41, October 6, 2010 (UTC)
Community content is available under
CC-BY-SA
unless otherwise noted.