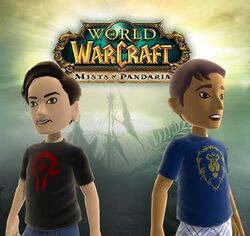 Contest Closed
Do you play an Xbox? Would you like an

Alliance or

Horde shirt for your avatars? Look no further! Blizzard (courtesy of our friendly floating skull, Zarhym) has delivered some codes into our hot little hands via zeppelin, and we're itching to give them away!
The requirements are simple:
Make sure you have an existing WoWWiki account.
Send an email with your account name/link to wowwikicontests [at] gmail [dot] com (If you don't wish to use email for whatever reason, you can elect to put your response in the comments section. We can still contact you provided your registration email is up to date!)

Include in the email one of the following (we're talking a few lines, at most):

A brief rundown of your most memorable Mists of Pandaria experience or
A brief description of a fanfic character or favorite RP event.

Include if you want Alliance or Horde, Male or Female

Male Avatars can only redeem the Male shirts. Female Avatars can only redeem Female shirts.

You also have the option of joining our Facebook group to gain an additional entry. This may be especially helpful to anyone who wants more than one shirt (for a different gender/faction). Just join and then comment with your faction/gender choice (include your WoWWiki user name) on this page.

The administrators will choose the best to award codes (

Goblin

s may or may not detonate the remainder... we're still trying to corral them).
If you're lucky enough to get a code, run over to the Xbox site and put it in!
The deadline is June 21st, 2013.
After the contest ends, we'll post some of the best entries on this page! If you'd like to send us a pic of your avatar, we'd be happy to post it as well.
If you don't get in this time, don't worry: we'll be holding another code giveaway soon!
Other notes:
Don't create multiple accounts in order to get codes. We have a few

Ancients

wandering through the site, keeping an eye on things!
Admins reserve the right to reject any entry they feel may be spam.
Eligible countries: Algeria, Andorra, Argentina, Australia, Austria, Bahrain, Bangladesh, Belgium, Brazil, Bulgaria, Canada, Channel Islands Guernsey, Channel Islands Jersey, Chile, Colombia, Costa Rica, Croatia, Cyprus, Czech Republic, Denmark, Egypt, Estonia, Finland, France, Germany, Greece, Hong Kong, SAR, Hungary, Iceland, India, Indonesia, International English, International French, International Spanish, Iraq, Israel, Italy, Japan, Jordan, Kazakhstan, Korea, Kuwait, Latvia, Lebanon, Liechtenstein, Lithuania, Luxembourg, Malaysia, Malta, Mauritania, Mexico, Monaco, Montenegro, Morocco, Netherlands, New Zealand, Norway, Oman, Pakistan, Peru, Philippines, Poland, Portugal, Qatar, Republic of Ireland, Romania, Russia, San Marino, Saudi Arabia, Serbia, Singapore, Slovakia, Slovenia, South Africa, Spain, Sweden, Switzerland, Taiwan, Thailand, Trinidad And Tobago, Tunisia, Turkey, Ukraine, United Arab Emirates, United Kingdom, United States, Vatican City, Venezuela, Vietnam, Yemen
Just for fun Poll!
What system would you like to play World of Warcraft on? (Because, you know, it will *so* happen...)


For more WoWWiki and Warcraft news be sure to follow us on

and join our

group!
---
---
Community content is available under
CC-BY-SA
unless otherwise noted.