At last, the final zone was opened for the Mists of Pandaria expansion. After the darkness and horror of the Dread Wastes, the Vale of Eternal Blossoms is like a breath of fresh air. The trees are in an eternal state of autumn, with golds spread everywhere. The same can be said of the grasses, but while the grasses of Kun-Lai Summit might share a similar hue, there is a distinct impression that these golden blades are vibrant. Lakes and pools abound, all tucked behind the safety of the great wall.
Besides the great gate separating the Vale from the Dread Wastes, or the gate opening to Kun-Lai Summit, the most impressive structures in the west are the pair of giant mogu statues standing above the Golden Pagoda. Yes, these are very same that are on the new log in screen for the expansion. Passing through them to the east introduces a whole new level of awe, as the stunning Alliance and Horde shrines, main cities for the continent, stand on both sides of the towering Mogu'Shan Palace.
The entire area, at least for now, seems fairly phase-heavy, the mobs (and some NPCs) encountered depending on the quests you happen to be working on. Nearly all of the new factions have their representatives within the two shrines, ranging from the Golden Lotus to the Lorewalkers. Most have a variety of daily quests, and some of the quartermasters can be found within as well. In addition, most of the amenities one might expect in Stormwind City or Orgrimmar are present, including a bank and auction house.
This is one of the most beautiful zones in all of Pandaria, but it isn't without its dangers. Mogu and mantid, spiders and saurok, all can be found here...
Landscapes
Structures/Villages
Video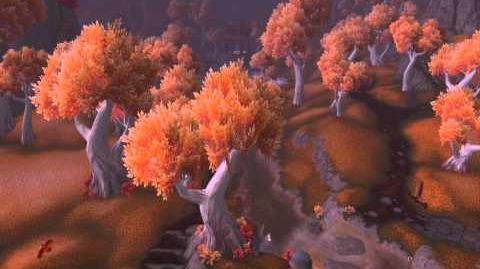 ---
Continue to Beta testing: Valley of the Four Winds
Go back to Dread Wastes: Screenshots and Video


For more WoWWiki and Warcraft news be sure to follow us on

and join our

group!
---
---
Community content is available under
CC-BY-SA
unless otherwise noted.