Comment here!
It's been a little bit of time since out last news roundup, but we thought we'd throw some more news together for your reading pleasure... or displeasure, as some of the current news might illicit. First up: hacking Warcraft.
Account Security Warning
Unless you've been hiding under a rock or perhaps don't use the mobile features Blizzard has provided, you have surely heard by now that the mobile armory was somehow hacked. Many players have had large quantities of gold vanish from their characters, spent on worthless junk on the Auction House.
Thankfully the good folks at Blizzard were able to muddle through the issue and fix it, restoring access to the armory. There's likely still plenty of players out there who are awaiting restoration of items and gold. Blizzard stresses again the importance of having an Authenticator.
Visit the WoW theme park!
(...in China...)
As if the talk about hacking hasn't already gotten a few feathers ruffled, there's another report about the World of Warcraft theme park in China. I mean, Blizz says it's WoW-themed, but I just don't know... China says it's called "Joyland". Surely they're telling the truth.
Blizz Swag at Comic-Con

If you're lucky enough to be heading to Comic-Con in San Diego next month, be sure to drop by the Blizzard booth for some exciting swag! Limited edition merchandise includes:
TRANSFORMING ZERGLING/BANELING PLUSH (2,000)
MINI SYLVANAS (2,000)
SHADOW ILLIDAN BY FUNKO (1,000 total)
WARCRAFT TRIBUTE ART BOOK [Hardcover Edition] (300)
EPIC PURPLE LANYARD
MOMOT BLIZZARD PAPERCRAFT: DIABLO, THRALL, & RAYNOR.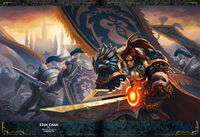 Speaking of the Tribute Book, anyone interested can preorder it through Amazon or Barnes and Noble. The release date is set for October later this year at a price of $39.99. From the description of the soft cover:
"

The deluxe softcover edition includes over 200 illustrations from the international fan community, along with special pieces created exclusively for the collection...

- Publisher site

"


For more WoWWiki and Warcraft news be sure to follow us on

and join our

group!
---
---
Community content is available under
CC-BY-SA
unless otherwise noted.