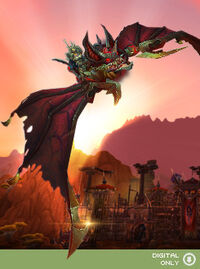 Slow news week! Never fear, we've found at least a little snippet of news here and there. Seeing as how the next big patch is a ways off, this lack of news isn't much of a surprise.
(Breaking news at the bottom about the Warcraft movie!!)
New mount

Blizzard recently unleashed a new Flying mount upon the store, the Armored Bloodwing ($25/£17):

Soar into battle atop the undisputed ruler of the night skies—the all-new Armored Bloodwing mount. This monstrous, flesh-eating bat is the perfect companion for trips that call for death and destruction.
Superman

Wait - what? What does the Man of Steel have to do with Warcraft? Well, nothing really. However, the actor that plays the Kryptonian in the upcoming movie, Henry Cavill, revealed in an interview with Vanity Fair that he's got a few "geeky hobbies". Among them is playing Warcraft, which he was apparently playing when he received the phone call informing him he was to be Superman.
We're wondering how he explained that to his raid group.
Titan

Blizzard has pushed back their super secret project, Titan, until 2016. That's going to come as a disappointment for fans expecting a big announcement at BlizzCon 2013.
According to Mike Morhaime:

Blizzard is very "iterative" in how it creates games and it never hesitates to do the right thing when it comes to developing games. Recently, Blizzard reviewed Titan and concluded it needed big design and technology changes to meet the bar for quality. As the core team figures out what to do, Blizzard is shifting developers to work on World of Warcraft, Blizzard All-Stars, the Diablo III expansion, cinematics and Battle.net.
Warcraft movie

News has always been slow in coming about the Warcraft movie since it was announced, oh, around the last Ice Age. Thanks to IGN, at least we know a tentative production start date: early 2014!
Directed by Duncan Jones and produced by Legendary Pictures, it is set for a 2015 release date.


For more WoWWiki and Warcraft news be sure to follow us on

and join our

group!
---
---
Community content is available under
CC-BY-SA
unless otherwise noted.