News
23:25, May 14, 2010 (UTC)
So i finally got everything in my old user space moved to this one. Plenty of links still need to be updated across my sandbox -- especially templates -- but i'll do those as i look over it. I'm mainly doing this because i've got a cold and was bored.
Project Rex is on the back burner primarily because of other projects taking the lead, but also because of the Cataclysm gear up -- may as well wait for more accurate info now.
A little something called WAAML has been in a good draft stage for a while now, but i'm still waiting on a WAA client to be made based on it -- have two programmers lined up, but both too busy to commit -- to show case what it can do, which is a shame as i know i had started to promote it as something WoWWiki could use and i aimed to have it done before Cataclysm so no rivals could make further progress in their own tools.
Also got a Pokémon related project -- called PNG -- going that's been on my mind since WoW, but i'm now giving alot of attention. I'm also doing various things for MMOC -- been there a while, and you'd have to be living under a rock to not know what the current adgenda is -- and some exciting stuff with Adys.
In terms of the wiki, you'll probably only see me removing incorrect info based on leaked alpha info, as well as pushing to get any unsourced Cataclysm info already on the wiki sourced, so i know what info i can and can't add based on what is already known -- this was a mess in WotLK, with alot of alpha info leaking in and unsourced WWI info (God there was so much incorrect info reported by almost all sites from this. I'm glad the next event is still a way away.).
00:04, 14 July 2009 (UTC)
Incase anyone is wondering, no i'm not returning to WoWWiki editing. I'm simply doing research for a project and correcting things i find wrong as i go as well as looking for some help on missing information.
20:55, 30 June 2008 (UTC)
Just a reminder that i won't be editing the wiki during July, no matter how much i see you all screwing up WotLK and WWI info ;) If anyone wants me, i'll still be free to talk on my user page though, that's it.
About
General
Don't you hate filling out this bit?
Well i'm 25, from the UK, and currently funemployed. My interests are listed below, but most relevant here, is my interest in Warcraft and all its lore.
Hopefully i can contribute here, both with development/design and adding/cleaning up lore articles. But admitidly, my grammatical and language skills are average, so they hold me back a bit when it comes to writing and expressing myself.
You'll probably find i come across as arrogant and opinionated, but i'm very fair, unbiased and respectful. I'm always open to hear other people's views and love a good discussion on practically any topic as long as you can see it through to the end.
Interests
Computers
Internet
Web Design
Game Design
Web Development
Graphic Design
Anime
Manga
Gaming
Music
WoW History
I have a hazy memory of my entire background -- and of everything else -- , so please forgive any mistakes.
I started playing WoW with EU open beta, though i've followed it since announcement. I was a fan of the lore surrounding WC3 and wanted to delve deeper and combined with respect for Blizzard's ability, WoW sounded like the perfect entry point to do so.
I got my copy the morning of the EU release, and quickly registered my desired account name. Sadly, despite the plans that had been made between friends and myself before the release, I ended up on a realm on my own, due to late rumours of a Spanish community focusing on the desired server. Funny enough, the new one they went to turned out to have the huge Spanish and Portuguese community.
My first live character was a male Tauren Druid (Stormpaw), as both me and my best friend played them during beta together, and enjoyed the dynamics of the hybrid class (me being Feral, him being Restoration specialised). But without friends to level with the game wasn't as enjoyable.
Media
Photos
Artwork
Other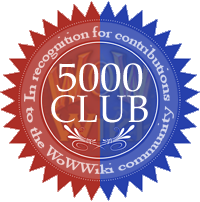 This user is a tireless member of
the
5000 club
!
Community content is available under
CC-BY-SA
unless otherwise noted.