Why hello there! Welcome to my cozy userpage, without that fancy stuff I cannot do for you ;)
My projects
Edit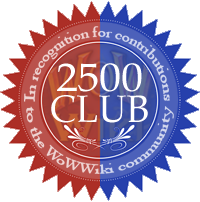 This user is a venerable member of
the
2500 club
!
Optimising the Server:Bloodhoof_Europe page for my Bloodhoofian peers.
Clearing the wanted list
Bring justice to gnomes
Share my knowledge, which isn't much but might be useful anyway
Categorize
Information about the Burning Crusade here, since I was so lucky to get into the beta :)
Currently uploading pictures of bosses of the Burning Crusade.
Currently also templating dungeon navigation, ? la this.
Check out My projects to look for notes, etcetera.
My Characters
Edit
Other things of interest
Edit
Feel free to use my Sandbox or give any critical remarks. I can always improve, clearly :-)
Looking for colours, even when you're American? User:Tinkerer/Colour has a full listing of all colour codes.
---
Community content is available under
CC-BY-SA
unless otherwise noted.