This is a little page about me. I am really working on quests, requested pages, and druid pages (as I'm a druid). I also attended BlizzCon 2007 and as such I am actively engaged in discussion and editing of

pages and content. Otherwise, I am attending South Daktoa State University where I am majoring in Computer Science and Math. I also work for Mid-West Seed Service, Inc. where I do software development. I try to balance school with actually having a life and it works! (sometimes).
Current projects:
Correcting all item tags to have a box that supports inclusion in pages
Adding all quests
Adding and correcting quest chains
Watching articles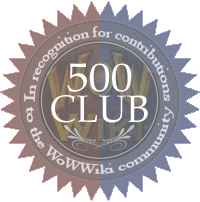 This user is a notable member of
the
500 club
!
Community content is available under
CC-BY-SA
unless otherwise noted.