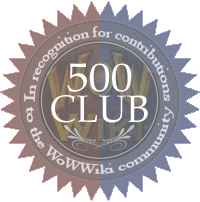 This user is a notable member of
the
500 club
!
I've had WoW (though I have stopped playing recently) since 25 December, 2004 (Christmas). I was playing WarCraft since WarCraft III.
My highest leveled character is (as of 26/08/08) lvl 24 (low, I know, but I don't really enjoy WoW as much as the time and money put in, I quite prefer the RTS Warcraft).
I prefer the Horde over the Alliance. My previous and current gaming consoles are: DS, Xbox 360, Wii, Gamecube, PS2, Gameboy Advance, Gameboy Color (broken),
Outside of gaming, I am interested in ethnic groups, religions and history. For more information, see my Wikipedia page: [1].
Userboxes
Edit
Userboxes
Interests
Edit
This user has a strong interest in articles on

lore

.
This user prefers to

PvE

.
Characters
Edit
This user plays both

factions

and isn't ashamed to admit it.
| | |
| --- | --- |
| | This user has never reached level 80 even though they've been playing since Release Day. Quit rolling alts! |
Community content is available under
CC-BY-SA
unless otherwise noted.