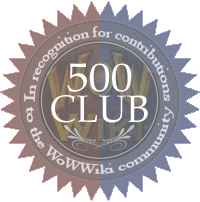 This user is a notable member of
the
500 club
!
See you on Wowpedia!
Old user page
Hi! I've been playing WoW since the beta test just before release. Since then, I've played on Kel'Thuzad with my guildmates in Tribe. My original character was a Rogue, but before reaching level 60 I decided to play a Mage alt named Joanica for a little change of pace. I ended up loving the class and never really went back.
I also have a variety of level 1-10 alts spread across several other servers where other people I know play. Unfortunately, they all outleveled me pretty quickly, so I never really bothered taking those characters any farther.
I like to reorganize. If I see an article with scraps of information randomly strewn about, I try to set everything straight.
I like to polish. Spelling errors, sloppy editing, misuse (or lack of use) of section headings, and breaks in the flow of the article are things that I'm always on the lookout for as I browse the wiki. Every article is a unique and beautiful snowflake. Okay, did I seriously just type that?
I like to be lazy. I'm working on a few templates to help make the wiki more consistent and easier to edit, and have ideas for many more.
Feel free to leave a note on my talk page to complain, give praise, just to say hi, or for anything else you feel like mentioning.
To-Do / Project Ideas
---
This user plays as a member of the

Horde

.
This user plays as a

Mage

.
This user has a strong interest in articles on

lore

.
Community content is available under
CC-BY-SA
unless otherwise noted.