WoWWiki Head Bookkeeper and Laird of the Lore Admin

Named for: Furion, of course
Favorite WarCraft characters: Furion, Tyrande, Illidan, Jaina, Thrall, Medivh, Kil'jaeden, Krasus, Alextrasza, Malygos, Gul'dan, Velen
From: Greenwich Village, NYC; Cornwall, England
Religion: several, but primarily Judeo-Buddhist
TV: StarGate, BattleStar Galactica, Smallville, most stuff on BBC America or PBS.
Preferred Reading: Fantasy (Mercedes Lackey, Roberta Gellis- I also dabble in Harry Potter, but I don't lose sleep over it; and with all due respect to Tolkien, The Lord of the Rings was the most blissfully boring book I've ever read)
Profile: WarCraft Historical and Literary (novels) specialist; Night Elf Religions expert; Knowledgeable about Magical plot twists; You won't find me editing many pages that aren't lore, I tend to focus on the past; experienced WarCraft psychologist (I've got a good reading into what the characters think)
Team Leader for the Bookkeepers Community Team (Head Bookkeeper)
Developer of the WoWWIki Infobox and WoWWiki Racebox
Pioneer of the WoWWiki Succession Box
WarCraft novels recommended reading order
After this point, one should ideally be familiar with the events of Warcraft III: Reign of Chaos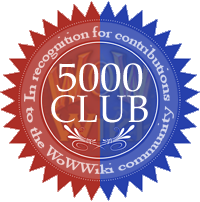 This user is a tireless member of
the
5000 club
!
Community content is available under
CC-BY-SA
unless otherwise noted.