My name is Len, playing WoW since Open Beta. I currently reside on Icecrown US realm (PvE), playing my Rogue, Feona.
I was once a part of the core of Ethereal Guardians, but have since split off from them after their 2nd guild split.
I'm currently a casual raiding member of Blades of Wrath.
Characters
Sandbox
See also: User:Lenthegr8/Sandbox .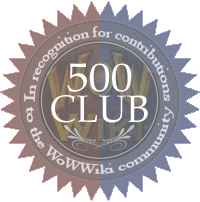 This user is a notable member of
the
500 club
!
Community content is available under
CC-BY-SA
unless otherwise noted.