My User Boxes:
Death to the Alliance!
This user only plays as a member of the

Horde

.
This user's character has defeated the old

Onyxia

before her revamp.
About Me
I've only been playing WoW for about 2 years now ever since my fiance got me into the game. I prefer to play Horde characters and the farthest I ever got on the Alliance side is a level 26 Night Elf Druid.
I decided to dabble in WowWiki after I used it to figure out my strategies for gaining reputation. This was prior to the release of the Burning Crusade expansion when Cenarion Circle reputation was my primary goal. Since the release of the Burning Crusade I backed off on editing the pages around here simply due to the fact I was spending much more time playing the game than on the page. Since I've gotten a new job that doesn't keep me all that busy during the day it looks like I'll be participating here a little more than before.
Projects
For details on my Projects, please see my Projects page. In general I pretty much just work on things that I notice out of place.
Characters in World of Warcraft
Currently I play a level 70 Tauren Druid named Nokokni on the Medivh realm. I also have a level 70 Tauren Warrior that was my primary character before the release of the Burning Crusade. I just rolled a new Blood Elf Paladin that I hope to level up to 70 soon and I still have my Orc Shaman.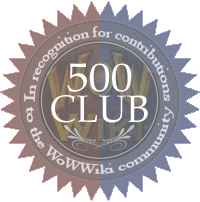 This user is a notable member of
the
500 club
!
Community content is available under
CC-BY-SA
unless otherwise noted.