Who Am I?
Edit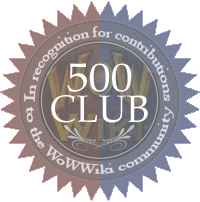 This user is a notable member of
the
500 club
!
Hi, in real life I architect, design, and build software systems. I'm here while I explore the WoW API's and experiment with some AddonConcepts, and I'm hoping to fill in many of the gaps to make this THE reference for the API's.
I've been reverse-documenting (similar to reverse engineering) systems for years, and i'm not afraid to throw together scripts to analyze the WoW code, pull out all of the references to functions, events, etc, and then try and figure out what most of them do.
On the forums you're more likely to find me as Iriel.
Current Addons
Edit
DevTools AddOn - Simple tools for development (/reload and /dump)
XPToGo AddOn - Trivial addon to display XP remaining
Bookworm AddOn - Remember location and optionally content of in-game books and plaques.
Tools and Research
Edit
LUA Parsing
Edit
I've just finished building a code investigation tool to help in documenting the API, it's a LUA language parser (Written in Java) together with some scripts to gather code (from .lua files as well as the .xml files) and then a hook for scanning the parsed tree for things. At this point the only scanning implemented is for basic function calls and variables.
Projects on the stove
Edit
Now that my Hunter has reached level 60, I'll likely do some more addon/documentation work again. I've been Wiki-gnoming the API documentation for a while, but before that I was trying to fill in the red pages with blue ones.
Addon-wise, putting front ends on some of my data collection addons is near the top of the list.
Wiki Stuff
Edit
Doing wiki gnome duties on the API pages. Test API Page Here
Community content is available under
CC-BY-SA
unless otherwise noted.