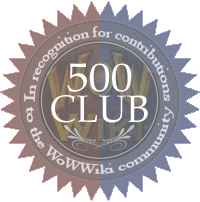 This user is a notable member of
the
500 club
!
Authoring
Edit
Currently working on Server:Dath'Remar_US/Crafting page. Not enough time to play wow, and work on page..so IDK.
Well, I'm working on lvling my priest Llahna. I'm a transferee from an American Server, but am enjoying this one alot more....a lot less drama. My priest is disc/holy..so if you're LF instances, I'm your priest...currently looking at about 6700 mana at lvl 60, with +480 healing gear. This is my enchanter / tailor....so if ya need something done, I need to lvl , so hit me up.
Community content is available under
CC-BY-SA
unless otherwise noted.