Hello! Leave any comments you want on my talk page.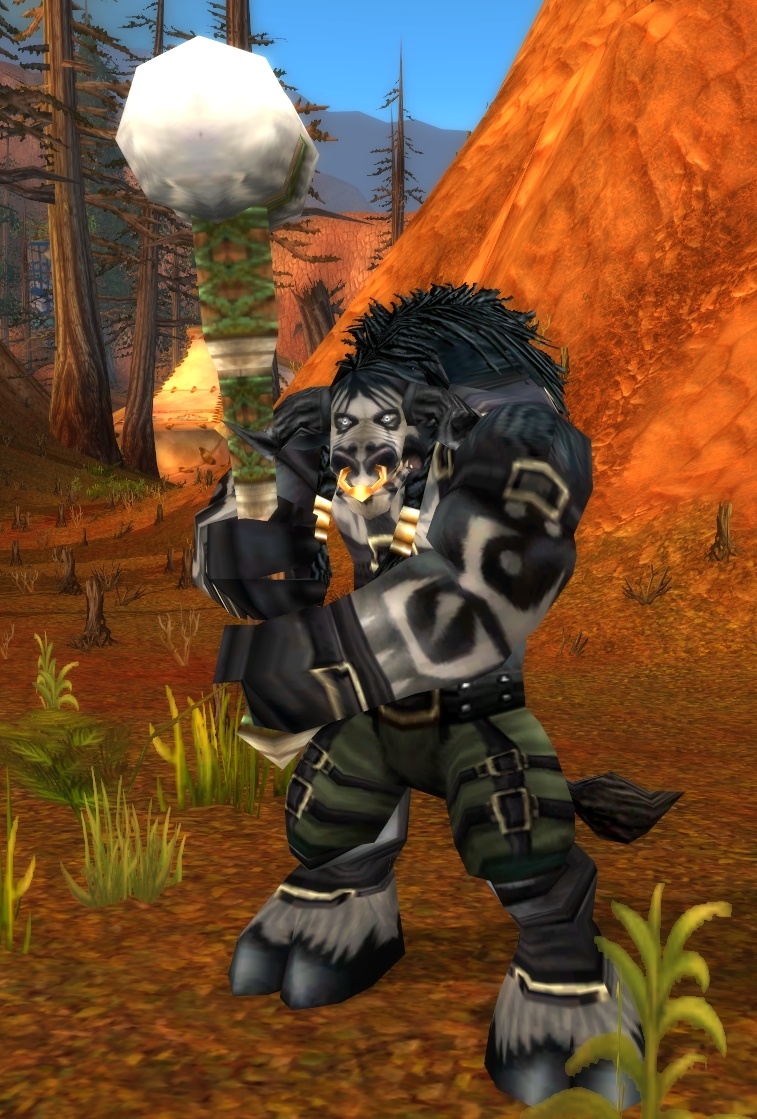 <--Kind of what my Tauren Hunter, Fathios, looks like
All of my characters are on Server: Shandris U.S.A East. All Horde characters are in the guild Death Lords, save for the warrior.
Fathios (main):
| | |
| --- | --- |
| | This user plays as a male character. |

Zuzan:
| | |
| --- | --- |
| | This user plays as a male character. |

Zalmonga:
| | |
| --- | --- |
| | This user plays as a male character. |

Velinor:
| | |
| --- | --- |
| | This user plays as a male character. |

Pachumahip:
| | |
| --- | --- |
| | This user plays as a male character. |

Kolgos:
| | |
| --- | --- |
| | This user plays as a male character. |

Brenzo:
| | |
| --- | --- |
| | This user plays as a male character. |

Corinthan (On the RP server Silver Hand, not Shandris):
This user plays as a

female

character.

As you obviously see, I have a lot of characters. You can tell i kind of prefer Horde. Also, they aren't all 70 (in fact the highest is 40), I just like the 70 pictures better ;)
My Favorite Stuff
WarCraft III Faction: Scourge
Races:
Tauren: Because they are awesome.
Pandaren: Because they are Pandaren.
Dwarf: Because they are cool and they like beer.
Gnomes: Cuz they're silly XD
Characters:
Fathios (My Hunter :P)
Cairne Bloodhoof (Since he's amazing)
High Overlord Saurfang (Dare you even ask why?)
Chen Stormstout ("I cause panda-monium!")
Kel'Thuzad ("This horned thing on my head is KILLING ME!")
Alexstraza (I love dragons, and the red dragons are coolest)
Nozdormu (Bronze dragons come in second)
AND I almost forgot: LEEROY JENKINS!
Classes:
Hunter
Warrior
Shaman
My Least Favorite Stuff
WarCraft III Faction: Night Elves (I actually like Night Elves a lot in WoW, but they're too hard to play as in WCIII. It makes my brain hurt)
Races:
Murlocs: I'm sorry. I used to love murlocs. But a straight month of endless Barrens chat ruined both murlocs and Chuck Norris jokes.
Taunka: Cheap Tauren imitators.
Naga: I just don't like them, I really have no good reason.
Characters:
Arthas: I thought he was pretty cool until he slaughtered the citizens of Stratholme.
Nefarion: Since I like Nozdormu and Alexstraza, I have to dislike him. He's a traitor against all dragons.
Mankrik's Wife: To repeat myself, I was in the Barrens. I was only able to find Mankrik's wife after going onto wowwiki.
Classes:
Warlock
Priest
Rogue (when they're used against me)
My Fanfic
I'm really into fanfic and speculation. These are my fanfic articles, by category:
Expansion or Warcraft Game Ideas
User:DScharff24/Great Sea Expansion
User:DScharff24/The Emerald Nightmare
User:DScharff24/The Shards of Draenor
User:DScharff24/The Return of the Legion (coming soon)
User:DScharff24/WarCraftIV: The Return of the RTS
Characters (player characters or otherwise)
User:DScharff24/Zakoor Gadgetzan
Lore
User:DScharff24/The Fourth War (coming soon)
Fanfic Race List
If my expansion ideas were seen by Blizzard, deemed worthy and came to fruition, then this would be the final race list:
-Alliance: Human, Dwarf, Night Elf, Gnome, Draenei, Furbolg, Drakonid, Broken Draenei, High Elf
-Neutral: Pandaren, Goblin, Worgen, Nathrezim
-Horde: Orc, Troll, Tauren, Forsaken, Blood Elf, Satyr Upriser, Ogre, Mok'Nathal, Mo'arg
My newest project: more fanfic (yay)! The Fourth War, the lore behind WarCraft IV.
Community content is available under
CC-BY-SA
unless otherwise noted.