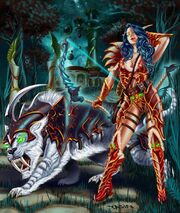 hello, my name is deshay smith. i am 14 years old,i am also going to south gwinnett highschool. i am an freshman there.
i am also a girl. my favorite 2 races are blood elves and night elvs. my most favorite of the 2 though are the blood elvs, today or tommarrow i'm getting burning crusade the actual game, plus i'm also getting the guide to that game, if anyone has some good tips for playing as am blood elf hunter, plz let me know. thanks.
--Bloodelflover2060
Community content is available under
CC-BY-SA
unless otherwise noted.