General
Level: 57+
10 Player Cap (Prior to Patch 1.10 it was a 15 Player cap)
Location: Raid instance located inside Blackrock Spire under Blackrock Mountain.
Abbreviation: BRS, UBRS
History
See: Blackrock Spire.
Upper Blackrock Spire, or UBRS, is the "raid" area of the Spire, which is only accessible after someone in the raid obtains a Seal of Ascension or someone with it stands between the flameless braziers flanking the doorway at the end of the hall.
Bosses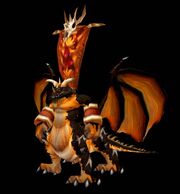 Group
A Group to succesfully raid UBRS does not have to consist of full 10 members. If you are trying to build a 10 man group, keep following in mind: 1. Have somebody with the seal (key) with you 2. Less than 10 people is a challenge - make sure everybody is well equipped.
In a 10 man group, you should have at least the following: 2 or more Healers (at least 1 priest, if possible Shaman/Paladin and Druid also, to get all existing buffs) 2 or more tanks (no excuse for having less) 2 AOES (mages/warlocks) 2 DD (Rogues, more Mages, Hunters, etc...)
Quests
Azshara
Obtained from Duke Hydraxis on the island northeast of the southern peninsula of Azshara
Badlands
Burning Steppes
Orgrimmar
Winterspring
Community content is available under
CC-BY-SA
unless otherwise noted.