General
Level: 57+
10 Player Cap (Prior to Patch 1.10 it was a 15 Player cap)
Location: Raid instance located inside Blackrock Spire under Blackrock Mountain.
Abbreviation: BRS, UBRS
History
See: Blackrock Spire.
Upper Blackrock Spire, or UBRS, is the "raid" area of the Spire, which is only accessible after someone in the raid obtains a Seal of Ascension or someone with it stands between the flameless braziers flanking the doorway at the end of the hall.
Bosses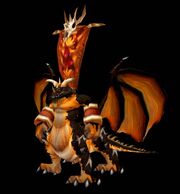 Group
A Group to succesfully raid UBRS does not have to consist of full 10 members. If you are trying to build a 10 man group, keep following in mind: 1. Have somebody with the seal (key) with you 2. Less than 10 people is a challenge - make sure everybody is well equipped.
In a 10 man group, you should have at least the following: 2 or more Healers (at least 1 priest, if possible Shaman/Paladin and Druid also, to get all existing buffs) 2 or more tanks (no excuse for having less) 2 AOES (mages/warlocks) 2 DD (Rogues, more Mages, Hunters, etc...)
Quests
Azshara
Obtained from Duke Hydraxis on the island northeast of the southern peninsula of Azshara
Badlands
Burning Steppes
Orgrimmar
Winterspring