Twisted Chanter's Staff

Item Level

24

Two Hand

"Two Hand" is not in the list of possible values (Cloth armor, Leather armor, Mail armor, Plate armor, Axe, Dagger, Fishing pole, Fist weapon, Mace, Miscellaneous, Polearm, Staff, Sword, Bag, Enchanting bag, Engineering bag, Gem bag, Herb bag, Leatherworking bag, Mining bag, Soul bag, Arrow, Bow, Bullet, Crossbow, Gun, Idol, Libram (relic), Shield, Sigil, Thrown, Totem (relic), Wand) for this property.

Staff

"Staff" is not in the list of possible values (Back, Chest, Feet, Finger, Hands, Head, Held in off-hand, Legs, Main Hand, Neck, Off Hand, One-Hand, Projectile, Ranged, Relic, Shirt, Shoulder, Tabard, Thrown, Trinket, Two-Hand, Waist, Wrist, Two-Handed) for this property.



Speed 3.40
55 - 84 Damage
(20.4 damage per second)
+6 Stamina
+10 Intellect
Durability 90 / 90
Requires level 19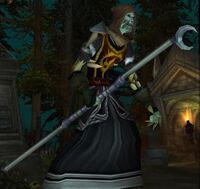 This item is a world drop off of mobs between level 20 and level 27.
External links
Edit
Community content is available under
CC-BY-SA
unless otherwise noted.