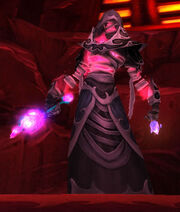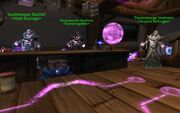 The Transmogrifier[1] is a speculative type of ethereal NPC revealed on the official Warcraft Facebook page. These NPCs give players access to the transmogrification feature expected to be introduced in Patch 4.3 that allow players to alter the appearance of their armor by using the look of similar armor, while keeping its stats intact.[2]
† With a level 3 Storehouse.
References
Edit
See also
Edit
External links
Edit

Wowhead
NPCs (extended search "Transmogrifier")
Info

WoW Official Game Site (US)
4.3 Preview - Transmogrification
by Bashiok, Aug 17, 2011 9:00 AM PDT

WoW Official Game Site (EU)
4.3 Preview – Transmogrification
by Bashiok, 17 Aug 2011 16:00 UTC

FranksPlace.org
Cataclysm 4.3 Transmogrification Guide FAQ
News

Kotaku.com
World of Warcraft: Cataclysm Comes Full Circle; Deathwing Is Going Down
By Brian Crecente Aug 17, 2011 10:40 AM

Warcraft at Facebook.com
Glimpses

Official General Discussion forum (US)
Curiouser
Nethaera 8/11/11 9:16 AM
Community content is available under
CC-BY-SA
unless otherwise noted.