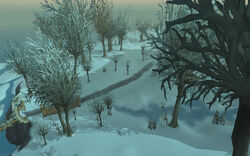 Transborea is a subzone in the Borean Tundra. The term is used to describe the snowy, largely Scourge-controlled region in the far eastern area of this zone. As "trans" means "across" or "beyond" and "borea" may be a shortening of Borean Tundra, the name may refer to that it is a field that is beyond the tundra (being on the other side).
Community content is available under
CC-BY-SA
unless otherwise noted.