This article concerns content exclusive to

Battle for Azeroth

.

This article should only contain officially released content, such as beta and press release content.
This information is subject to change at any time. (Note this tag should only be placed on major Battle for Azeroth articles.)
See WW:DNP for the official policy on posting unreleased content.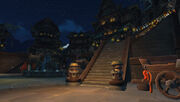 Tradewinds Market is an area inside of Boralus. It contains a majority of the vendors in the city.
Inhabitants
  

Pua

 <Fish Hawker>
Community content is available under
CC-BY-SA
unless otherwise noted.