Were you looking for the battle pet called the

Crimson Whelpling

 or the  

Crimson Whelp

mob?
Tiny Crimson Whelpling

Item Level

30

Use: Teaches you how to summon this companion.
Sell Price: 25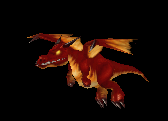 Tiny Crimson Whelpling summons and dismisses Crimson Whelpling, a dragon whelpling companion.
Source
Current
The Tiny Crimson Whelpling drops from any mob within the Wetlands at an extremely low rate.
Pre-Cataclysm
Tiny Crimson Whelpling dropped from Crimson Whelps, Flamesnorting Whelps, and Red Whelps in the Wetlands. There were also Lost Whelps in the general area, but they did not drop this pet. The level of these whelps ranged in the mid-20s, so this was the first whelpling pet new characters had the chance of obtaining, and also the easiest for higher level characters to farm.
Notes
The drop rate of this pet is 0.1% (one in every thousand kills)[1] and takes an incredible amount of patience and determination in order to get one. Due to the difficulty of obtaining one, and thus their rarity, they can sell for fairly large amounts of gold on the Auction House, at least as far as pets are concerned. The table below shows the cumulative probability of getting at least one after a number of kills.
Probability of at least one drop in X kills
Number of Kills
100
288
401
693
1386
2302
2995
4603
9206
Cumulative Probability
9.5%
25%
33%
50%
75%
90%
95%
99%
99.99%
Neither the drop rate nor cumulative probability increases based on the number of monsters you have already killed.
Patch changes
References
See also
External links

WarcraftPets
Summoning spell
Battle pet Crimson Whelpling
Community content is available under
CC-BY-SA
unless otherwise noted.