Tin Ore is the second-easiest ore to mine. It is mined from Tin Veins. You need 65 Mining to mine it.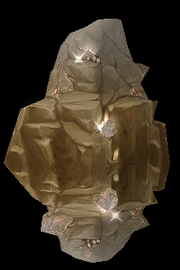 Tin Veins may be found in many starting areas where the typical creature level is between about 18 and 30. Tin stops giving skillups to Mining at 165.
The most common zones to have Tin are:
Also found in Tin Veins
Edit
Tin Ore as an ingredient
Edit
Tin Ore is smelted into
 [Tin Bar]s at a forge, requiring a mining skill of at least 65.
Tin Bars are used in the production of
 [Bronze Bar]s.
Tin Ore can be prospected (consuming 5 ore) with a Jewelcrafting skill of 65 or more, resulting in:
Silver Veins may occasionally be found in place where Tin Veins usually occur.
See also
Edit
External links
Edit
Community content is available under
CC-BY-SA
unless otherwise noted.