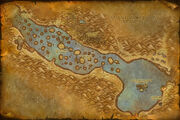 Thousand Needles is a level 40-45 zone for both Alliance and Horde in Southern Kalimdor. Breadcrumbs to the zone come from both Feralas and Dustwallow Marsh.
The chain starts out with a surprise attack by the Grimtotem clan. However, the Grimtotem will have to wait as all of Thousand Needles is underwater after the Cataclysm! Fizzle and Pozzik have hastily had a speedbarge crafted to ride out the flood and are now acting as the center of the rescue effort. Not that much rescuing is happening with the Southsea Freebooters laying siege, a surprise attack by silithid and new, untapped resources being made available in centaur lands...
Once everyone is settled in, or exploited, or killed and resurrected, players are sent to Freewind Post to reclaim it from the Grimtotem. A strange wind serpent keeps appearing, though...
After Freewind has been retaken, players are off to find Magatha Grimtotem herself, who has been captured by the Twilight's Hammer! A few twists and turns await as players unravel the situation to free Magatha.
Fizzle & Pozzik's Speedbarge
Edit
After "Round Up the Wagons", three different quest forks open up:
Ice Scream
Edit
 [41] 

Freezing the Pipes

/  [42] 

That Smart One's Gotta Go
Southsea Holdfast
Edit
Splithoof Heights
Edit
Freeing Freewind
Edit
After the Splithoof Heights fork, players are directed to Freewind Post:
Magatha rising
Edit
After freeing Freewind, it's time to solve the Magatha mystery:
External links
Edit

YouTube
Thousand Needles Overview
Community content is available under
CC-BY-SA
unless otherwise noted.