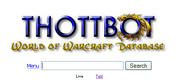 Thottbot is a website and was an addon which automatically saved data from the game — like monster drops, weapon stats, monster spawn locations, and character profile data. The collected data was later uploaded to the website of the same name, Thottbot.com, either automatically or manually. The uploaded data available on the site is used for many applications such as finding NPCs that you need to complete a certain quest, items that you might have to retrieve, or even the drop rate of items from different monsters. Thottbot is owned by ZAM Network.
History
The original Thottbot was a news aggregator created by Aftathott, founder of the Everquest guild "Afterlife." Its purpose was to comb various video game websites for news and information on a number of MMORPGs with a focus on Everquest. Though the primary site is now used for the World of Warcraft database, the news aggregator still exists as a sister site. Thottbot is also affiliated with Cosmos, a popular collection of user-interface modifications.
Thottbot owner ZAM Network acquired the World of Warcraft database Wowhead in June 2007 according to Next Generation magazine.[1] The Inquirer noted that Affinity Media, parent company of Thottbot and Allakhazam, bought Wowhead for $1 million, giving them ownership of all three major World of Warcraft databases.[2] Affinity Media was the previous parent company of IGE, which generated revenue from selling World of Warcraft gold, but Affinity Media later severed ties with IGE.[3]
Thottbot has seen a steady decline in traffic since 2009 or earlier, probably due to the ascendancy of Wowhead.
In late November 2010, ZAM Network largely merged the database backend of Thottbot with Wowhead and removed many previous features of Thottbot.[4] This made Thottbot more of a skin on top of Wowhead rather than a separate site.
References
External links
Portal — links to various parts and top-level search of database.
Plugins and search modules
These may no longer work with the recent Wowhead backend changeover.
Community content is available under
CC-BY-SA
unless otherwise noted.