Line 1:
Line 1:
−

[[Image:sunwelltrilogy-logo-medium.png|thumb]]

+

[[Image:sunwelltrilogy-logo-medium.png|]]

 

[[Image:Sunwell1.jpg|thumb|Dragon Hunt cover]]

 

[[Image:Sunwell1.jpg|thumb|Dragon Hunt cover]]

 

[[Image:Sunwell2.jpg|thumb|Shadows of Ice cover]]

 

[[Image:Sunwell2.jpg|thumb|Shadows of Ice cover]]

Line 6:
Line 6:
 
 
 

==Editions==

 

==Editions==

−

*'''Hardcover Collection''': Ultimate Edition

+

*'''Hardcover Collection''': Ultimate Edition

 

:*'''Volume 1:''' [[Dragon Hunt]]

 

:*'''Volume 1:''' [[Dragon Hunt]]

 

:*'''Volume 2:''' [[Shadows of Ice]]

 

:*'''Volume 2:''' [[Shadows of Ice]]
---
Revision as of 15:07, 20 January 2008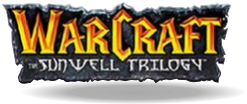 Editions
Major Characters
Return to Sources page
Notes
The Sunwell Trilogy occurs concurrently with Brann's journey through the Eastern Kingdoms as chronicled in Lands of Conflict. Dragonhunt covers the fall of Tarren Mill, which occurs before Brann Bronzebeard's journey through Hillsbrad (after the Forsaken had taken over the town). Ghostlands occurs not long after Brann's journey through Quel'Thalas. Brann had reached Quel'Thalas before the blood elves had retaken Silvermoon, or any areas in Quel'Thalas.
The Warcraft: The Sunwell Trilogy Ultimate Edition collects all three volumes into a single large-format hardcover book, which includes a new eight-page, full-color prologue about the creation of the Sunwell, as well as an art gallery, design sketchbook, and afterword by Chris Metzen.
Community content is available under
CC-BY-SA
unless otherwise noted.