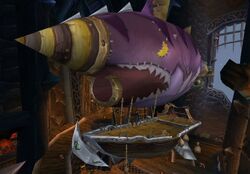 The Mighty Wind is a zeppelin with a goblin crew and orc guards that runs between the western tower outside of Orgrimmar in Durotar and Warsong Hold in Borean Tundra.
Inspiration
Edit
The name is an obvious reference to the movie A Mighty Wind by Christopher Guest, with the crew members of the ship named after the characters: Mike LaFontaine, Alan Barrows (Barrowswizzle), Jerry Palter (Paltertop), and Mitch (Gritch) and Mickey (Grikee).
Community content is available under
CC-BY-SA
unless otherwise noted.