The Dead was a unit in Warcraft: Orcs & Humans.
When any unit is killed, it will begin to decompose and the remains will slowly seep into the ground. Necrolytes are trained in the black arts, and can raise these fallen warriors if they can reach the corpse before it disappears into the earth forever.[1] (W1ManO 22)
Information
Edit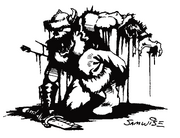 The Dead are raised from dead bodies by Necrolytes using the Raise Dead spell on them. The Dead are best used to cover up your vulnerable units, to kill Peasant going from the Town Hall to the gold mine/forest or to cover up a hasty retreat. They are rather weak, but with a considerably sized group they can put up a fight.
Warcraft: Orcs & Humans (First War) units
Human units
Orc units
Neutral
Heroes
Community content is available under
CC-BY-SA
unless otherwise noted.