Thaurissan's Royal Scepter

Item Level

60

Held In Off-hand

"Held In Off-hand" is not in the list of possible values (Back, Chest, Feet, Finger, Hands, Head, Held in off-hand, Legs, Main Hand, Neck, Off Hand, One-Hand, Projectile, Ranged, Relic, Shirt, Shoulder, Tabard, Thrown, Trinket, Two-Hand, Waist, Wrist, Two-Handed) for this property.

+10 Spirit
+5 Intellect
+5 Stamina
Requires level 55
Equip: Increases spell power by 12.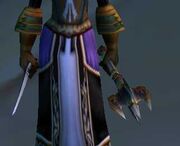 Thaurissan's Royal Scepter is an off-hand item that improves spell power as well as intellect, stamina, and spirit.
This item drops from Emperor Dagran Thaurissan in Blackrock Depths.
This item has a drop rate of 13.8%.
External links
Edit