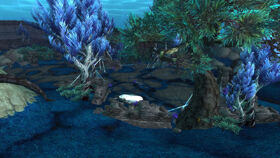 The Terrace of Gurthan is an expansive set of ancient mogu ruins found in the northeastern part of the Dread Wastes, just north of the Forgotten Mire. Spiders have taken up residence here, piling their webs everywhere and laying a multitude of eggs. A few small fetid pools can be found in its center containing water striders, wasps, and/or mistlurkers. At its southern end one of the mantid can be found.
Inhabitants
Edit
Patch changes
Edit
Community content is available under
CC-BY-SA
unless otherwise noted.