Note that he must be fought for a quest, and the quest is receivable at a much lower level than 34. If you walk out of Deepwater Tavern and suddenly get invited to a group, just join, wait a few seconds, kill Slim, and say you are welcome.
World of Warcraft: The Comic

This section concerns content exclusive to the World of Warcraft: The Comic or other Warcraft-related comics.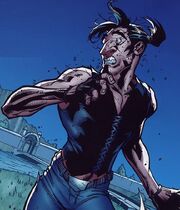 External links
Community content is available under
CC-BY-SA
unless otherwise noted.