This article concerns content exclusive to Warcraft RPG and thus unlikely to be canon.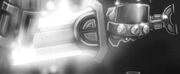 Taeshalach (meaning Flame Rend) is a sword that was forged from one of the two Shatterbound fragments of Gorshalach, and embodies all that is noble and good. When Gorshalach sundered itself, Sargeras abandoned the fragment that would form Taeshalach, as it was useless to him in his corrupted state. Aggramar eventually claimed the fragment and reforged it into its current form, which he currently wields as his weapon. If this weapon is ever combined with the other fragment, which has been reforged into Gorribal, Gorshalach will be reborn.[1]
References
Community content is available under
CC-BY-SA
unless otherwise noted.